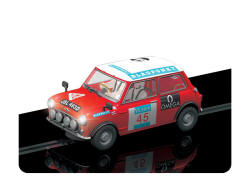 Scalextric Morris Mini Cooper S Mk1 1275 - 1000 Lakes Rally Winner 1966
Product Code: C3100
The Scalextric Model: A finely detailed replica of the 1000 Lakes Rally winner of 1966 livery driven by Timo Makinen.

History: Timo Mäkinen was born in Helsinki, Finland, on 18 March 1938, starting his professional life by delivering newspapers for his father's transport company. But soon he started racing in ice track events, subsequently entering circuit races. His wins in the Mini were the 1964 Tulip Rally, 1965 Monte Carlo Rally, 1965 1000 Lakes, 1966 1000 Lakes, 1966 Three Cities Rally, 1967 1000 Lakes.

Features: High detail. Magnatraction. Quick-change guide braid. Working lights front and rear, Magnatraction.
Discontinued