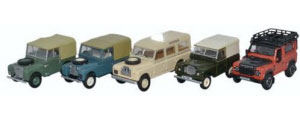 Oxford Diecast Classic Range Rover Set
Product Code: 76SET55
Production Details:
Oxford Diecast Classic Range Rover Set. Our Land Rover gathering brings together five of the vehicle's varied configurations across the years in equally interesting colour schemes, making for a very desirable set:-

76LR3S005 Land Rover Series III is a short wheelbase model registered SLA 215L in the vehicle's Bronze Green colour scheme to the body and cream hard back upper section.

76LRDF008AD Land Rover Defender 90 Station Wagon comes in Phoenix Orange and black with roof rack, registered VK15 NEJ, representing their contemporary and special edition Adventure vehicle.

76LAN18001 Land Rover 80" Canvas Back is one of the iconic 'originals', registered HUE 166. The 80" Canvas Back model is decorated in a delicate sage green with sand coloured canvas effect to the back and a grey interior. It features the famous Series 1 80" Land Rover grille finished in silver.

76LAN2019 Land Rover Series II LWB Station Wagon looks striking in its Limestone colour scheme with contrasting black and silver trim. The long wheelbase model is registered PPJ 655B from 1964 and features a light brown interior.

76LAN188023 Land Rover 88" Canvas Back is registered NGY 327 and appears in another classic Land Rover colour scheme of Marine Blue with pale olive green canvas back, rounded off with mid grey interior seating. Note too, the Land Rover 80" radiator grille finished in black and the characteristic spare wheel on the front of the bonnet.
(Scale 1:76 / OO Gauge)