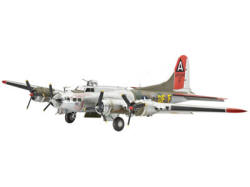 Original details:
Type description Heavy Bomber
Year/Period 1939
Origin USA
Engine capacity 4 x 883 kW
Speed 480 km/h
Revell - B-17G Flying Fortress - 1:72 (04283)
The B-17 Flying Fortress is the best-known American bomber of World War II. Heavy losses in 1943, when a total of 120 bombers was shot down, lead to the conclusion that previous B-17 versions carried insufficient defensive armament. As a consequence, the front lower nose of the B-17G was equipped with a turret carrying two 12,7 mm machine guns, providing an effective defense against the feared frontal attacks. Simultaneously, supplementary gun positions were added to the fuselage sides.
Transfers for 2 USAAF versions:
1) B-17G-35-VE, serial 42-97880, DF-F, "Little Miss Mischief", 8th Air Force, 1st Air Division, 1st Combat Wing, 91st Bomb Group, 324rd Bomb Squadron, Bassingbourn, UK, Feb. 1945
2) B-17G-35-BO, serial 42-31909; "Nine O Nine" 8th Air Force, 1st Air Division, 1st Combat Wing, 91st Bomb Group, 323rd Bomb Squadron, Bassingbourn, UK, April 1945

| | |
| --- | --- |
| Model Scale; 1:72 | Dimensions (mm); L321 W440 |
| Number of Parts: 237 | Requires Painting: Yes |
| Skill Level: 5 | |
Paints Required but not included: (Humbrol )
Revell Colors: 5 8 9 15 36 39 46 57 65 65 75 78 79 85 86 88 90 91 92 99 360 365 371