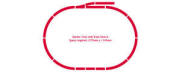 Contents:
LNER 'Cock O' the North' Class P2 locomotive, 2 x LNER composite coaches, 1 x LNER brake coach, Track: 3rd Radius Starter Oval, Track Pack A (with point and buffer stop), P9000W Wall Plug Transformer, R8250 Train Controller, R8206 Power Track, Hornby MidiMat (1600 x 1180mm)
Hornby Master of the Glens Train Set
Product Code: R1183
Production Details:
An exceptionally powerful locomotive was required to haul the LNER express passenger trains along the final part of the difficult and demanding East Coast Main Line from London to Aberdeen. Such a locomotive was the awesome LNER Class P2, 'Cock O' the North'.

The model LNER 'Cock O' the North' locomotive and simulated teak coaches included in this set help to capture those exciting days of train travel in the 1930s when trains such as the one depicted in this set would cut through the Scottish countryside and would be without question the 'Master of the Glens'.

This set also includes a MidiMat, on which the track supplied can be placed. Additional Track Packs and accessory packs can be added to extend the layout to a fully functioning model railway.