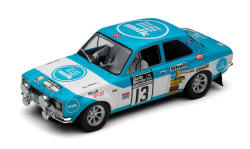 Scalextric Ford Escort Mk1 RS1600 - 1973 RAC Rally Winner Timo Makkinen, Henry Liddon
Product Code: C3029
The Scalextric Model: Scalextric first made the Ford Escort in 1970 and issued six liveries which, even today, are very desirable cars for the rally enthusiast. The all new Scalextric car improves upon the original model design in all area – detail, interior fittings, body shape, livery decoration and stunning performance.

The car is fitted with the super fast in-line FF motor and features Magnatraction™, easy change pick-ups and front & rear lights.

A standard Scalextric Ford Escort also won the Brooklands Test Hill Challenge in August 2009.
Discontinued