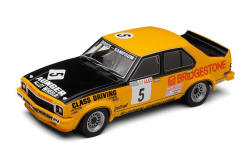 Scalextric Holden L34 Torana 1975 Bathurst Winner
Digital Plug Ready (DPR)
Product Code: C3101
Features:
Lights: Xenon effect headlights, working rear headlights. Magnatraction, Easy change Pick-Ups. Digital Plug Ready (DPR). Motor: Mabuchi FF 18,000 rpm.
Scalextric is the only manufacturer to produce this car. This Digital Plug Ready (DPR) car can be converted for use with the Scalextric Digital range in under sixty seconds using the C8515 Digital Plug.
Discontinued
This car was driven by Peter Brock and Brian Sampson to victory in the 1975 Bathurst 1000.
Peter Brock, otherwise known as "Peter Perfect", "The King of the Mountain" or simply as "Brocky" was one of Australia's best-known and most successful motor racing drivers. Brock was most often associated with Holden, although he raced vehicles of other manufacturers including BMW, Ford, Volvo, Porsche and Peugeot. He won the Bathurst 1000 endurance race nine times, the Sandown 500 touring car race nine times, the Australian Touring Car Championship three times and was inducted into the V8 Supercar Hall of Fame in 2001. Brock's business activities included the Holden Dealer Team (HDT) that produced Brock's racing machines as well as a number of modified high-performance road versions of his racing cars.