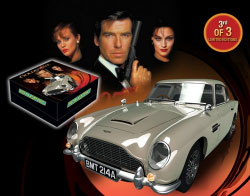 James Bond materials © 1962-2010 Danjaq,
LLC and United Artists Corporation.
Features
Limited Edition
High Detail
Easy Change Pick-Ups
Magnatraction™ System
Working Rear Lights
Xenon Effect Headlights
Scalextric - James Bond Aston Martin DB5 - Goldeneye Limited Edition (Pack 3 of 3)
Product Code: C3163A
Features:
The beautiful Aston Martin DB5 is possibly the most famous car in the world due to its prominent role as the ultimate James Bond vehicle. Amongst the car's various cameo roles in a total of four Bond movies over the years, the DB5 featured in the opening chase sequence to the 1995 blockbuster, GoldenEye (the first Bond film to star Pierce Brosnan).

The DB5 was given the registration number BMT 214A for GoldenEye and a total of three cars were used during the filming of the movie; one for close-up shots and two further stunt cars for the dramatic chase scenes in the hills above Monte Carlo.

The classic DB5 from GoldenEye is the third variant of the Aston Martin offered by Scalextric as part of a three-car Limited Edition collector series from the legendary James Bond movies. Visit www.scalextric.com/bond for further classified information. This is a limited edition of 3,500 models.
Discontinued