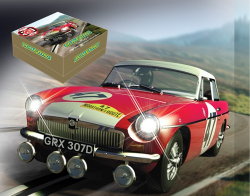 Digital Plug Ready (DPR) - convert for use with the Scalextric Digital range in under sixty seconds using the C8515 Digital Plug. This is a limited edition of 3,500 models. MGB. 50 years of success.
Special Features
Digital Plug Ready
Easy Change Pick-ups
Magnatraction
Working Headlights
Working Rear Lights
High Detail
Scalextric - Celebrating 50 Years of MGB - Limited Edition
Product Code: C3270A
Features:
First launched in May 1962, the MGB became the epitome of the modern British sportscar. The affordable MGB spawned many variants along the way; from a car originally intended to be a two seater replacement for the hugely successful MGA.

The GT version was announced in October 1965 and was an overnight success. The MGB was an all-new car in many respects and was distinguished by its unitary body and chassis structure. The monocoque construction allowed engineers more scope with design and layout of the passenger compartment. The racing pedigree of the MGB swiftly emerged and the success that these, often only moderately tuned, MGBs had in racing, serves as testimony to their balance of performance and reliability.

In celebration of 50 incredible years of MGB and the legacy it imprints within British automotive history, Scalextric presents a tribute to the class win at the 1966 Targa Florio road race for the works MGB roadster, registration GRX 307D, known as 'Old Faithful' – because it never failed. Driven by Timo Makinen and John Rhodes, the MGB finished 1st in the 1600cc class and 9th overall, with only the likes of Ferrari and Porsche ahead.
Discontiued