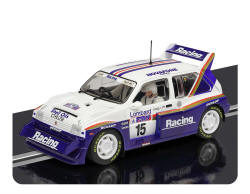 Scalextric MG Metro 6R4 - Racing - Shell Oils, No.15
Digital Plug Ready (DPR)
Product Code: C3408
Product details:
Racing - Shell Oils, No.15, Race: 1986 RAC Lombard Rally, Drivers: McRae.
Digital Plug Ready (DPR) - convert for use with the Scalextric Digital range in under sixty seconds using the C8515 Digital Plug.
Special Features:
Digital Plug Ready, Easy Change Pick-ups, Magnatraction, Working Headlights, Working Rear Lights, High Detail.
Discontinued