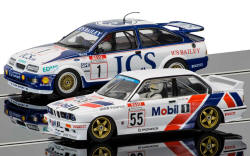 Scalextric Touring Car Legends Twinpack - Ford Sierra RS500 and BMW E30
Digital Plug Ready (DPR) and (PCR)
Product Code: C3693A
Product Details:
Race: British Touring Car Championship 1990, Drivers: Rouse & Sytner, No:.1 ICS & No.55 BMW Finance. Box contents: 2x cars, 4x spare braid plates, Limited Edition plinth.
Andy Rouse is regarded by many people as one of the most successful drivers ever to appear in the BSCC. His 60 overall wins in the category was the highest total by any driver for many years, until being overhauled by Jason Plato at Brands Hatch in the opening round of the 2011 season.
Frank Sytner's BTCC career started in 1982 when he started racing a Rover 3500S for Team Sanyo Racing, after a season of mixed results Frank naturally gravitated towards BMW and started to race for Grace International Racing.
Special Features:
Digital Plug Ready (DPR), Easy Change Pick-ups, High Detail Street, Magnatraction, Pro Chassis Ready (PCR), Working Headlights, Working Rear Lights.