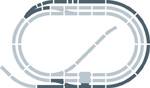 Illustration shows Track Pack D added to Track Pack C, B & A and starter oval (shaded track parts show Track Pack D)
Hornby Track Pack D
Product Code: R8018
Production Details:
Add Track Pack D to Starter Oval + A + B + C to make this layout. You now have a whole extra outer route and a host of new train movements to try. You get an extension to the level crossing too.
Contents:
3x R600 standard straight sections
2x R601 double straight sections
1x R606 2nd radius standard curve section
4x R609 3rd radius double curve sections
3x R610 short straight sections
2x R8073 right-hand points
1x R641 curved right-hand point
1x R643 2nd radius half curve section
1x R645 single track level crossing
This item is discontinued but we can make them up from the separate items if ordered. You save by ordering these items as a pack.