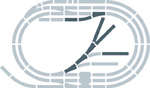 Illustration shows Track Pack E added to Track Pack D, C, B & A and starter oval (shaded track parts show Track Pack E)
Hornby Track Pack E
Product Code: R8019
Production Details:
Add Track Pack E to Starter Oval + A + B + C + D to achieve the full TrakMat layout. Complete the scene with TrakMat Accessory Packs and Hornby landscaping details.
Contents:
1x R600 standard straight section
3x R601 double straight sections
1x R606 2nd radius standard curve section
3x R8072 left-hand points
1x R8073 right-hand point
4x R083 buffer stops
This item is discontinued but we can make them up from the separate items if ordered. You save by ordering these items as a pack.