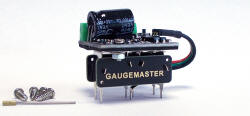 SEEP Digital Solenoid Point Motor
Product Code: GMC-PM10D
Production Details:
The PM10D point motor has been created to make installation and wiring as easy as possible for all modellers in all scales.
Based on the very efficient "Universal fit" PM10, the PM10D also incorporates a DCC-Digital decoder that makes wiring very simple. The decoder can be detached from the point motor so it can be attached directly to the point. Then with the screws provided just mount the decoder to the underside of the board.
However, DC modellers have not been forgotten - At Gaugemaster we understand that while ALL modellers want easy wiring, many who still prefer to drive their trains with DC need simple wiring too, so the PM10D has also been designed to be 100% DC compatible!
How simple is PM10D?

● fewer wires and less soldering!
● Installation can be either directly to your pointwork via the sleeper tabs OR "under-board" using the in-built fixing points. We even supply you with screws and a drive-pin extension!
● Simple to programme using the programming switch, just install directly to the main track.
● Basic wiring of power to your PM10D for point operation is super-easy and needs only TWO wires, not three as is usual.
● PM10D has built-in connections for added "Control Panel Switches" as well as LEDs on your mimic panel for position indicators, and all terminals are "Screw connections".
● Power is stored in the built-in CDU, so power wiring can be lighter (We recommend GM09RB or similar) - and LED and panel switches carry almost NO current at all.
● Of course, PM10D users also benefit from Gaugemasters well regarded customer service for back-up, support and advice.