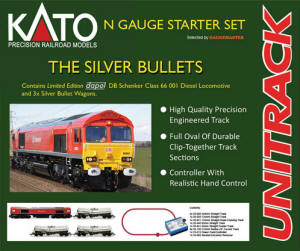 Gaugemaster Kato (British) GMKS004 The Silver Bullets Starter Set
Product Code: GMKS004
Production Details:
Containing Kato N Gauge Unitrack and a Limited Edition Dapol locomotive and rolling stock, this set combines the high quality engineering and durable reusability of Unitrack with British Outline stock.

Contents:
•4x 20-000 248mm Straight Track
•1x 20-020 124mm Straight Track
•1x 20-021 124mm Straight Road Crossing Track
•1x 20-040 62mm Straight Track
•1x 20-041 62mm Straight Feeder Track
•8x 20-120 315mm Radius 45° Curved Track
•1x 22-015 Power Pack/Controller
•1x 24-000 Rerailer/UniJoiner Remover
•Dapol Limited Edition DB Schenker Class 66 001 Diesel Locomotive and three Silver Bullet Wagons.
The "Silver Bullets" are one of the few iconic freight trains still running in the United Kingdom.
Containing china clay used for the production of lightweight coated paper for magazines, catalogues and brochures, this traffic flow runs from either Antwerp Docks in Belgium where imported Brazilian china clay slurry (kaolin) is loaded, or from Burngullow in Cornwall to UPM-Kymmene's Caledonian Paper Mill in Irvine – one of the UK's longest continuous freight hauls.

This starter set captures the spirit of the Burngullow to Irvine flow, which although nowadays punctuated with layovers at Exeter's Riverside Yard or Newport's Alexandra Dock Junction, represents a colourful and very welcome sight to the modern railway. We chose our limited edition Class 66 001 in DB Schenker traffic red livery and three pristine ICA "Silver Bullet" bogie tank wagons to form the basis of the set and if you suspend your disbelief for just a second, you can imagine this train thundering past you while you walk along that famous Teignmouth sea wall…