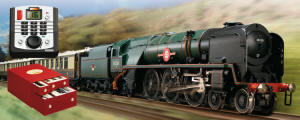 Hornby Venice Simplon-Orient-Express British Pullman Train Set
Product Code:R1073
Production Details:
What an absolutely amazing train set! Not only does this set have a top of the range locomotive but also three sensational Pullman cars which are complete with a staggering amount of interior detail including table lamps that actually stay lit even when the
train is stationary! Included with this set is the Hornby Select Digital control which takes controlling a model railway to new heights.
The substantial twin circuit of track with siding fits neatly onto the TrakMat included allowing, with the addition of Hornby Track and Accessory Packs for a fully functional layout to be created. And by adding further decoder fitted locomotives controlled by the Select, a busy and rewarding model railway can soon develop.
Discontinued
Contents:
BR 4-6-2 "Clan Line" Merchant Navy Class Locomotive, Pullman First Class Kitchen Car, "Minerva", Pullman First Class Parlour Car "Cygnus", Pullman First Class Parlour Car "Ibis", Track: 3rd Radius Starter Oval, Track Packs A, B and C (with two points and two buffer stops), R8213 Hornby Select Digital Controller, R8241 Power Track, R8217 Hornby TrakMat